Post by joatmoniac on May 8, 2016 7:38:35 GMT
It took some time to get this one figured out, and I would say that the episode breakdown for this one has inspired me even more than the original episode, haha. I figured with our fairly complex pantheon we can leave the idea of divine magic alone for now. So arcane it is!
1. What places do magic and technology conflict?
1a. An instance where magic wins out against technology:
Since we we are rocking a Heroic Fantasy setting in Dayiembe, magic tends to win out frequently against technology in many areas. That said, one area in particular that magic dominates in is communication. Technology for delivering information is still very rudimentary, but mages have many ways to ensure that messages get where they need to.
One of the more popular guilds of the world is the Planeswalking Postal Service. These wizards devote all of their time mastering the art of delivering people and things to where they need to be safely and securely. It is said that during times of war, the Planeswalking Postal Service will extract themselves from the kingdoms they live in and operate as a neutral party to avoid both sides fighting over their services.
EDIT: Totally didn't realize that there was a whole DM nastics about messages! Fail on me! Well I have updated this to get the name correct

Referenced here: dungeonmasterblock.freeforums.net/thread/677/dmnastics-48-box - galakan
1b. An instance where technology wins out against magic
1c. An instance where they furiously compete against each other
2. Where/what is the source of arcane power in the world of Dayeimbe?
2a. How does an arcane user access this power?
2b. Any additional information needed.
Given that this is a thread about magic I think that it would be appropriate to share an idea from the GURPS system. In gurps magic is based on the mental manipulation of ambient energy (mana). This is found in different concentrations in different places in game worlds. In some areas it is high, causing critical success and fail results with increased frequency, and in other places it is low, making casting difficult and failure dangerous. In some areas the mana is nonexistent and as a result spell casting through arcane means is impossible.
Another fun mechanic is aspected mana: it gives bonuses to certain types of magic, while taking power from others. (such as +1 to fire and necromancy and -1 to healing and water magic)
The third idea I wanted to share is the concept of "twisted" mana. This makes it so that your magic is semi-broken. Healing spells cause strange mutations in the flesh healed, magic fire splashes back toward the caster dealing magic, and other magic is mangled in equally strange and unpleasant ways.
You are not limited to applying these effects to arcane spell casters. Your distance from your god and his sites of power can have effects similar to those of high and low mana on paladins, and the presence of certain creatures could have similar effects on the available divine power as those of mana twisting. This will certainly make playing spell casters more interesting.
I think we should add a desert with no mana to the world, and a swamp where the mana is so strongly aspected to necromancy that the dead will rise without the interference of an intelligent being. We should add a place with twisted mana where the power of the twist causes the plants and animals to mutate into strange versions of the normal members of their species. - gmsamuel
3. What are the negative side effects of using magic in the world of Dayeimbe? These could be various, and not all apply to each magice user.
Figured breaking up into separate magic schools could be fun:
3a. Abjuration
with each protective spell cast there is the tiniest fraction of a chance that the caster will be transported to another plane of existence. The more powerful the spell, the greater the chance. And, with each spell cast, the pressure builds, like a dam. Eventually every abjuration specialist has this happen at least once. Some never come back. - whipstache
3b. Conjuration
It isn't widely known that creatures summoned to this plane actually exist somewhere else in the cosmos. Often, even if not sentient, they have some sort of conjuration magic that they use in their normal state. Conjuring elements, health, creatures, etc. makes one more likely to be the target of a summoning spell from someone/somewhere else. Although it rarely happens, there are records of summoners being taking to other planes, dropped into the midst of a ferocious battle and killed in combat, only to reappear exactly where they were. The lesson: be kind to your summons. - whipstache
3c. Divination
Peering Beyond the Veil. Opening the Third Eye. Communing with the Spirits. There are a thousand ways to say it, but however you describe it, each time you use divination magic, it becomes harder to stop. Not like a drug - this is not an unwillingness to stop but true inability. Diviners who exceed their ability to withdraw become permanently aware of the world beyond the mortal. Some find they constantly see the weave of magic to the point that their physical sight no longer functions, while others are driven mad by visions of the constantly shifting future. A generalist who casts only the occasional spell is likely safe, but those who make their living telling true fortunes rarely have more than a decade before one or more of the negative effects takes hold, permanently. - retsamnoegnud
3d. Enchantment
Those who make careers out of improving the works of others and the world around them can have a difficult time accepting mundane things as "good enough." Why should I leave this scythe as it is, when I could make it never need sharpening again? As the enchanter gains power, she often finds the compulsion to improve growing stronger. In extreme circumstances, enchanters have replaced parts of their own body with various objects just so they could enchant their own arm, for instance. Because, why should I have a normal arm when I could have a tree limb that regenerates and releases an acid cloud? - whipstache
3e. Evocation
There is nothing more god-like than creating something out of nothing. Evocation wizards are the most likely to become powerful tyrants, unless they find faith in a deity more powerful than themselves. Using evocation magic over time pulls at ones self-identity, gradually pushing it to the extremes. Finding a responsible balance that keeps the mind from believing too much or too little in oneself as an evocation wizard is the most impressive trick of all. - whipstache
3f. Illusion
Using illusion magic has very little negative consequence except in two specific circumstances. The first is that rarely the person fooled by an illusion can have a mental break, once the illusion is revealed. Secondly, if one is using illusion spells on oneself (i.e. invisibility, diguise self, etc.), over time, components of the caster will begin to become permanently invisible. - whipstache
3g. Necromancy
The negative effects of practicing necromancy are entirely cultural.
- whipstache
3h. Transmutation
Transmutation should slowly change the makeup of the body to similar materials to those that are transmuted. This way you can dodge the long term effects by transmuting other items into more "fleshy" items, restoring the bodies previous makeup. Perhaps elementals were created when a handful of transmuters attempted a massive spell that turned their bodies into water, earth, fire and air. - gmsamuel
4. Magic users in the world! Grab a magic user, and weave their tale! You can talk about the spell they are casting, and the negative effects that it has on the user.
4a.
4b.
4c.
4d.
4e. The stories... the stories... the stories... the power of one was perhaps sufficient, but why would that stop me. I feel a strange, but familiar sensation, like the end of the story itself. The moment I stop my chanting, the world around me grows silent. The corrupt officials standing before me, chains in their hands, look on my skin in horror.
"What in the names of the gods have you done?"
My skin was now worn, like that of paper, letters written over my body, as if the gods used me as a scroll. I felt the writing slowly climb my face. And it said The Great Enchanter Hawkm stared the officials in their eyes and with his final breath chanted the spell that would leave him a legend. With a sudden smile I point in the direction of the guards.
"You wanted people to forget about me? Wanted to lock me in a hole of your own choosing. I lock myself away, not in a hole, but within the pages of legend. None can forget me now". And with this, the written word upon the enchanter pealed away, taking his very essence, into the pages of a book.
Spell: Fabula Legenda
Negative effects on user: Converts the users essence into words and spreads those words across continents, solidifying the spell casters knowledge and fame. However, this requires the caster, not only to give up all his secrets, but his very essence to the world. - Samuel Wise
Owen Odell, half-elf, misborn orphan. Despite his aptitude for magic, he was twenty-five years old and not a single soul cared he was alive. His mother, rest her foolish soul, lay six feet under. His father had never dared to show his face. But tonight - oh, ho, ho, tonight! - the world would finally know his name. Standing arms folded outside the east wall of the Lusina Tirion Compendium Arcana, the largest collection of magical knowledge in the region, Owen took few deep breaths. The adrenaline pumping through him was already exhilarating. Just think how exceedingly intense it would be in just a few minutes! He opened his eyes, cracked his knuckles and popped his neck from side to side, a devilish grin unfurling across his face like a dragon's wing. Slowly sucking in one last breath, he muttered softly and disappeared in a shroud of silvery mist.
Puff.
Surrounded by the subtle darkness of the library shelves, he appeared again, mist rolling from his clothing. The silence of sound being absorbed into pages was comforting, like a warm shroud. Tracing the steps he had memorized in the daylight, he came upon a podium in the center of a small alcove. Upon it rested a thick tome bound in cobalt leather sealed underneath a glass case. He hovered above the book. This was it. As soon as he made a move there would be no stopping. No one would forget him. His fingers tingled tantalizingly above the case before placing a palm on the surface. He spoke the practiced words, so frequently used that they felt more like a heartbeat than a spell, and three bolts of bright, arcane energy slammed into the glass, shattering it. Surely some elderly wizard was waking up in a cold sweat as his alarm spell triggered. Deftly, he snatched the book from it's resting place and leafed through the pages. It had to be here somewhere. Pages upon pages of scrawlings and notes, arcane theories and ponderings. Nothing that he was looking for! He couldn't just leave with the book, they would find him. But if he stayed to long-
A flash of cerulean light caught his eye and he frantically flipped back a few pages. The words glowed from the page. Praise the Lightning Twins, it was beautiful! He stared for a moment before he realized he had very little time. His lips formed the words soundlessly several times before he felt confident speaking it aloud. The syllables crackled on his tongue. What power! As he spoke them, the veins pulsed in his neck and suddenly a terrifying surge of electricity shot through him. This was what gods felt like! The book blasted from his hands, flying across the room along with several shards of glass.
He could hear shouts from outside. Tower Town was up in arms. He stood, stunned briefly. His sight was different, fundamentally changed. He could see the magic in everything. The books and shelves glowed faintly, all soaked in ambient arcana. His hands shone stark blue against the darkness. The rainbow of auras around him was slightly disorienting but he could hear the wizards and magical law enforcement approaching. He chuckled, balling his fists. Time to see what this book was really good for. He waved his hands before him, sparking magic flaring in his palms before a sharp thrust sent it crashing through the wall. The impact sent a wave of thunderous energy to whip his robes violently and set his ears ringing. As the dust settled, the sound of rustling pages faded in shortly followed by urgent cries. Stepping from the library, his boots treading on lesser forms of literature, he let the energy flow freely from his hands.
"SON!" cried an elderly mage gripping tightly to a fluttering bedcap, "YOU DON'T KNOW WHAT YOU'VE DONE! THAT BOOK WILL DEVOUR YOUR MIND!"
"Those are just rumors spread by aristocrats like you to scare people with talent from your secrets!" said Owen, his vocals penetrating every ear.
"SURRENDER AND WE MIGHT BE ABLE TO HELP YOU, BOY!"
"With what, a prison sentence?" scoffed the half-elf, "No, I think you're out of your league, old man." One finger shot upward and a blaze of blue-white light struck the wizard full on. The others flinched and rushed to help the sage. They stared at him in fear, as it should be. After all, he was Owen... Owen... What was his last name? He couldn't remember. N-no matter! He was to be feared and respected, that he knew for sure!
"Lu... Lu..." he began to speak but the name escaped him. "Uh, this town is mine!" He took a step forward and his leg gave out. He stumbled forward and caught himself on the paving stones, suddenly finding it hard to breathe. Struggling for breath, he looked up. The world was warped and twisted.
"What," he gasped, "did you..." Someone came to his side and hands pressed against his face. Weakly, he pushed away but the firm gauntlets overpowered him. Quickly recited celestial phrases echoed on the rim of his dimming consciousness. It was all he could do to inhale. Suddenly the darkness fled, receding as quickly as it had come. He gasped heavily, panting as people shouted above. The hands on his face let go, finding his wrists instead. The Mage Shackles clasped firmly, tingling numbly over his palms.
"We've got him," the cleric said, pressing his face firmly into the ground, "attend to the Magister." He could think again. Owen Odell. His name was Owen Odell. The town was Lusina Tirion, Tower Town. Exhaustion seeped into him, cloaking him in a different form of darkness. His eyes slid closed as his will to stay awake was drowned in despair and fatigue. He would wake up in a prison cell. He would most likely spend the rest of his life there.
But, hey, he told himself, at least the world will know my name. A smile stretched thinly across his lips as the world faded from view. - DM Rowan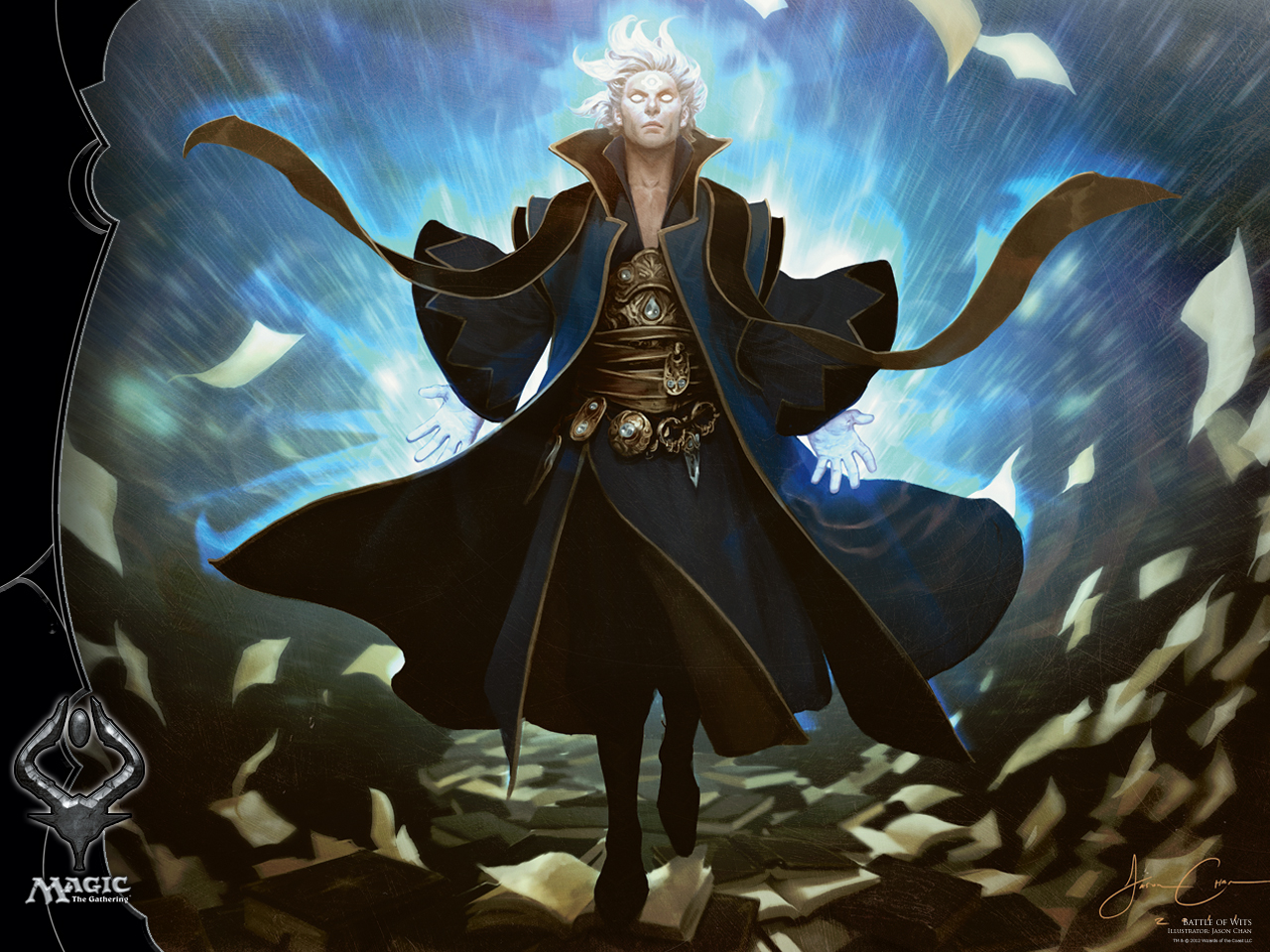 4f.
That should do it for now, but if I come up with something else I'll be sure to add it in!